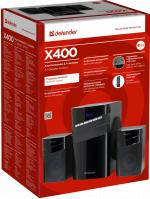 2.1 Speaker system Defender X400 40W Bluetooth, FM/MP3/SD/USB

Bluetooth support

Bluetooth technology allows to connect the speaker system to any Bluetooth supporting devices, such as mobile phones, tablets or laptops and use them as an audio source. Bluetooth standard ensures total freedom of movement, because there is no need for devices to be in «direct view» of each other.


USB flash drives and SD card support

SD card slot and USB port allow the playback of audio files without PC access. You can just insert the memory card with WAV and MP3 files recorded on it and enjoy listening to music.


Built-in MP3 player

Use USB flash drives, SD or MicroSD cards as a sound source.


Wooden enclosure of subwoofer and satellites

Ensures high quality performance within the whole frequency range.


Built-in FM-receiver

Built-in FM tuner allows to use the speaker as a full function radio player, so you can always listen to your favourite broadcasts.


Wireless remote control

Come up to this speaker system just to connect it to the audio source.